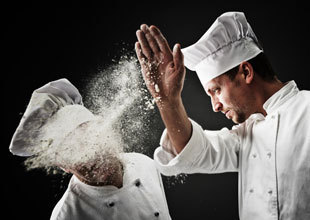 Got a team that always seems to be pulling in different directions? Do you feel more like a referee, some days, than a manager?
People are not programmed to work in teams. As we grow up, we're pitted against each other; first at school and then in the workplace. At think, we believe that, whilst a bit of in-house, friendly rivalry is healthy; nobody should have to lose for you to win. Our Team Skills course shows you how to unite your team in a common cause. Then you'll be well placed to beat your external industry competitors; together.
What are the benefits?
Previous participants in our Team Skills courses have discovered the following benefits:
The ability to pool different resources to achieve outstanding results
How to break down 'silos' or inter-department rivalry
Improved staff retention, loyalty and productivity
New tools to increase morale and reduce conflict
Kindred spirits, everywhere you look!
Q&A...
Who is this course for?
Anyone who runs or works in a team.
What will you cover?
Team dynamics
Team vision
Team values
Team standards
Team strategy and actions
Who will be there and where will it be held?
Our courses are run specifically for you and your company. You choose the venue and the number of delegates you'd like to include.
We are committed to helping you achieve more than you ever thought possible - both personally and professionally.