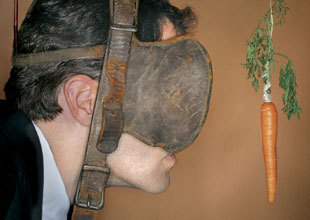 A wise person once observed that the amoeba (a single cell organism) will move towards a sugar lump if you place one near to it. It will also move away from being prodded with a lollypop stick. Interesting. More importantly, however, he went on to observe that human beings are infinitely more complex than the amoeba. It stands to reason, then, that the traditional 'carrot & stick' style of management won't always work with people. (Stay with it, though, if you manage a team of amoebae).
If you are looking for fresh ways to get your team performing at a higher level, our Team Performance Management Course could be what you need.
What are the benefits?
Our Team Performance Management course could help you:
Get clear on what you actually want your team to achieve
Define simple, measurable performance criteria that work
Design a remuneration or reward scheme to incentivise the behaviours you want
Create an effective under-performance process to manage low achievers
Get your team to "buy in" to your new scheme or schemes
Learn to monitor, coach and develop your staff to greater performance levels
Q&A...
Who will be there and where will it be held?
Our courses are run specifically for you and your company. You choose the venue and the number of delegates you'd like to include.
How long is the Team Performance Management course?
Our Team Performance Management Skills course is a full day. Packed with useful hints, tips and practical exercises to help you get really clear on what you want from your team and how to get it.
How much will it cost?
For details of our fees, please go to About Us.
Who is this course for?
Anyone with a responsibility to manage the performance of others.
What will you cover?
Defining your goals
Understanding the importance of WIIFM
Designing simple performance measures
Rewarding the right behaviours
Communicating your plans effectively
Ongoing monitoring and performance management
Underperformance and disciplinary measures - when and how to use them
How do I book?
If you'd like to book a training or coaching programme for yourself or your staff, please go to our Contact Us page. We will contact you when we receive your request, to discuss your exact requirements and to make the necessary arrangements.
What if I'm not sure it's the right course for us?
Not sure if this course is the right one for you? Contact us and we'll talk through your requirements to see how best we can help you.
We are committed to helping you achieve more than you ever thought possible - both personally and professionally.