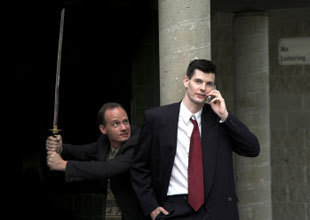 Do you sometimes feel like you could give Kofi Annan a run for his money? Whether you have team members who are sniping behind each other's backs or openly knocking seven bells out of each other whenever you leave the room, our Conflict Management course can help.
So, if you are fed up with playing referee, get your team on this course! It could be the best half day you have ever spent together. Feel the love!
What are the benefits?
When problems or misunderstandings occur between people, it usually comes down to one thing - the quality of their communication. Until your staff accept their differences and pool their resources, you won't get the performance improvements you're looking for.
Our Conflict Management course can help your team:
Understand the differences in the way people communicate
Understand how to gain and maintain rapport with others
Understand how to listen actively!
Learn how to use non-verbal language to maximum effect
Discover how to influence without starting World War 3.
Q&A...
What will you cover?
A little bit of Myers-Briggs Personality Type
Visual, Kinaesthetic and Auditory language (which, incidentally, can also improve your love life!)
Building and maintaining rapport
Non verbal signals
Questioning & Listening techniques
Styles of Influence
Who will be there and where will it be held?
Our courses are run specifically for you and your company. You choose the venue and the number of delegates you'd like to include.
How long is the Conflict Management course?
Our Conflict Management course is a half day. Packed with useful hints, tips and practical exercises to help resolve conflict and get your team pulling in the same direction.
How much will it cost?
For details of our fees, please go to About Us.
How do I book?
If you'd like to book a training or coaching programme for yourself or your staff, please go to our Contact Us page. We will contact you when we receive your request, to discuss your exact requirements and to make the necessary arrangements.
What if I'm not sure it's the right course for us?
Not sure if this course is the right one for you? Contact us and we'll talk through your requirements to see how best we can help you.
Who is this course for?
Anyone with a responsibility to manage the performance of others.
We are committed to helping you achieve more than you ever thought possible - both personally and professionally.