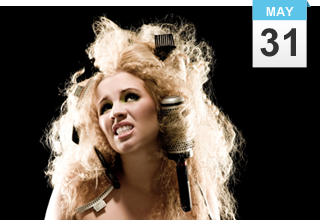 Motivation
5 things that could cause a girl's motivation level to slip from marvellous to miserable when travelling around the country, running training courses:
• Waking in the early hours to discover an intruder at the end of your hotel bed…which, on closer inspection turns out to be life sized cardboard cut-out of Lenny Henry, which you hadn't noticed when you'd wearily slumped into bed at midnight on arrival.
• Washing your hair in 'soft' water when you're used to the hard water of the south – leaving you looking like Toyah in the 80s.
• Trying to tame said hair using a hairdryer attached to a desk with a cord which does not allow you to stand anywhere near a mirror.
• Discovering there is no iron or ironing board in the room and that 'all the boards are out' when you call reception.
• Realising that you've left your new boots at home and that the only footwear you have to accompany your smart black suit are gold FitFlops or your brown Uggs.