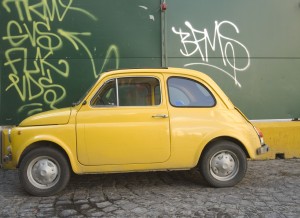 Monday 7 September
Skills development
Bounjourno!  La donna cucina!
This week, I have mostly been learning Italian. And trying to make cupcakes. Oh, and working 15 hours a day.
When you're working flat out, doing the same thing day in, day out, it can be easy to fall into a rut.
I worked out long ago that when you're in a rut, you start to fade. If you're not learning, you're not growing and if you're not growing, you die.
If you're feeling restless or bored, learn something new. It doesn't have to be anything too taxing. You just have to enjoy it.
So what if my cupcakes could pass for tiny little biscuits and all I can say in Italian is 'The car is yellow'? You never know. Maybe someday I will open a biscuit shop in a petrol station in Rome.
Learning opens up new possibilities.
If basket weaving isn't your thing, take a look at the courses we offer. From leadership to team development, advanced presentation skills to influencing, there's something for everyone.
New ideas, new ways of solving problems or new skills bring new energy. And with energy, anything is possible.
Hope to hear from you soon.
Arriverderci.