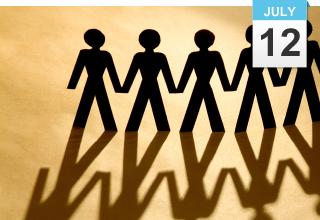 Teamwork
Some people regard their glass as half full, some half empty. In my case, if I were to sum up my week, I'd say that someone had downed the rest of my wine and made off with the glass afterwards.
Unlike last week, however, where you'll have noticed my mood was dark; this week I have decided to view the theft of my proverbial glass as a good thing because:
1.)  drinking too much is bad for you and;
2.)  it gives me an excuse to loiter in the Waterford Crystal department in John Lewis next weekend.
As Francois Lelord says in his wonderful book, 'Hector and the Search for Happiness', "Happiness is a way of looking at things".
I have spent the week overseeing the implementation of a new computer based sales system for a client; with set-back after set-back as the system would not play ball (a bit like the England football team except that we eventually won).
Whilst I could look back at the week, exhausted, with a sense of utter frustration, I am choosing only to see the good in what happened.
My reason for this is that people came together from all parts of the organisation, to make sure that we succeeded in the end.
I loved the fact that everyone involved pooled their skills and expertise to get the system launched on time. And I loved that they did it with so much enthusiasm, energy and respect for one another's contribution.
So I would like to thank the team (and especially Carol and Glenn) for a triumph of teamwork and team spirit over annoying and temperamental computer code.
Projects like these stand or fall, depending on the people involved.
It's awesome to watch a team of people, all with a common goal in mind, come together to solve a problem. Several heads are definitely better than one.
All too often, however, project teams pull in different directions. Different departments come with their own agendas. Communication breaks down. Blame is bandied about.  Deadlines are missed.
If you are setting up a project that involves input from different parts of your business, you need to make sure that everyone is on the same page from the start.
If you'd like to know more about how to get everyone pulling in the same direction, take a look at our teamwork course or get in touch to see how we can help you