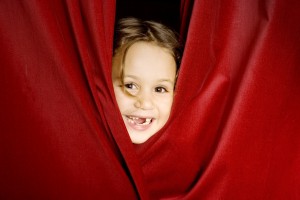 Monday 16 August
Leadership
If your business isn't doing as well as you'd like, you might want to consider employing my niece, Emily.
The only problem is, you'll have to wait a while because she's only nine.
On a recent family holiday (30 of us invaded Cornwall for a week), Em decided that an open-air talent show was in order. And once Em decides something is going to happen, you'd better not get in her way.
First she drew up the accounts, listing the cost of everything she would need in order to determine how much to charge the punters and still make a profit. (When she grows up, she wants to be Sir Alan Sugar).
Then she auditioned to select her acts before producing the tickets which she sold to remaining family members; shrewdly negotiating with the less than enthusiastic by offering a 'Forces Discount' to her soldier dad and an 'OAP discount' to her great-granddad on the basis that he was, well…really old.
She then recruited and selected her staff; I was to be in charge of hair and make-up while others were given jobs as stage crew, judges, catering etc. (Salaries accounted for).
Next, she cornered me to take her to a supermarket, where she bought huge bags of popcorn, which she then decanted into paper cups to sell at 50p a go in the interval.
The next few hours passed in a flurry of promotional posters, stage plans, decorations, lighting and video consultations, with Em standing in the middle, clipboard in hand, encouraging and directing her 'staff' to ensure that the set was exactly as she had envisaged. Her Leadership Skills are phenomenal. Simon Cowell would have been so proud.
The rain began minutes before the show. Sensing that the grown-up rellies weren't overly keen on getting drenched, I gently suggested that she consider postponing the event to which she shrugged her shoulders and said 'It's not my fault it's raining. They've bought tickets but they don't have to come.' So mercenary for one so young…
To avert disaster, I took her on a little walk round the pond, to evaluate her options. Option 1 – go ahead and risk the wrath of the crowd, crew and contestants (which might mean they won't come to your next event) or Option 2 – Have a dress rehearsal tonight in my caravan and do the show tomorrow? As she was intending to enter the competition herself, I think the lure of being covered in glitter twice swung it, so Option 2 it was.  (She is only nine, after all).
Next day the sun shone, the acts were delightful, especially 10 month old Riley who wowed the crowd with his waving and clapping routine, the audience was in high spirits and Emily was in her element.
Em's brother Joe won the competition and though she graciously clapped and cheered as he received his prize, I could see in her eyes that she had badly wanted to win.
By next morning though, she had rationalised her defeat as she told me, 'Joe might have won the chocolates, but I'm the one with £10 profit in my pocket…!'.
And there's just no arguing with that.
Click here for details of our Leadership Skills courses, or get in touch. We promise you won't have to audition.