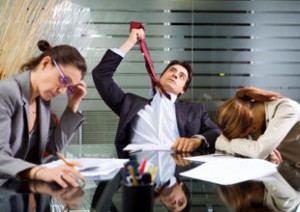 Monday 2 August
Influencing Skills
Gavin and I have recently been recruiting for client companies, which has caused us to review a number of CVs.
I'm not a big fan of CVs as they rarely tell you anything about the true essence of a person but they can be very funny.
Like the one where a guy listed his hobbies as rugby, lap dancing clubs and nights out with the lads and his only qualification as CSE Grade 2 Needlework…
Or the one where a lady said in her profile that she was a 'morning person' and when asked about this at interview said that by the afternoon she was generally too tired to concentrate…
Or the one where a woman stated that she did karate but had only needed to use this in the workplace once…
Or the one where a guy included a photo of someone who clearly wasn't him.
The problem with CVs is that you are expected to write about measurable achievements, when what we'd really like to know is the moments in life that have made you really proud.
So I have compiled my 'alternative CV', with some of my own best bits:
Receiving word that one of our students in India had achieved his dream of becoming a manager, following successful completion of a management programme we ran there.
Arriving in Beijing after a 400 mile charity bike ride, blistered and tired to the core, to be greeted by a sea of smiling children from a local school for the mentally handicapped.
Losing a hugely talented staff member to a tea shop in Newquay, so she could achieve her aim of becoming a British surfing champion; and the smile she gave me for letting her go without a fight.
Listening to a shy Russian gentleman toasting us in broken English, for bringing hope to the people of his country.
Standing in a pub, watching as the team of disparate and under-performing individuals we had inherited two years before, celebrated another successful year together… and realising that they did not need us anymore.
If you have to recruit as part of your job, chances are, it's not your primary role. If you'd like to know more about how to spot and secure the best candidates, give us a call or check out our Influencing Skills course.